Community Pass Registration
Initially an account will need to be created for your family. Click the create an account button to complete the sign-up form for your family and enjoy the convenience of online registration. Additionally, for each child you would like to register, add their profile onto your account by selecting "View Account," and then "Add Child" from the homepage.
A credit or debit card will be necessary to complete the register for a specific sport or activity.
If you wish to pay by check please come into the Lodi Recreation Office in the Rec Center Building, 130 Kennedy Drive.
You will have to complete the profile and registration online prior to us accepting payment.
Community Pass is accessible from your computer or smartphone.
Summer Camp
REGISTRATION IS NOW OPEN FOR LODI RECREATION SUMMER CAMP
Camp runs June 26th through August 4th
Monday-Friday 9:00am to 2:00pm
The cost to register is $250 per child
Enrollment is limited to 175 children
Note: Camp will be located at Kennedy Park this year
For more information call 973-859-7427
To Register click the Community Pass link below: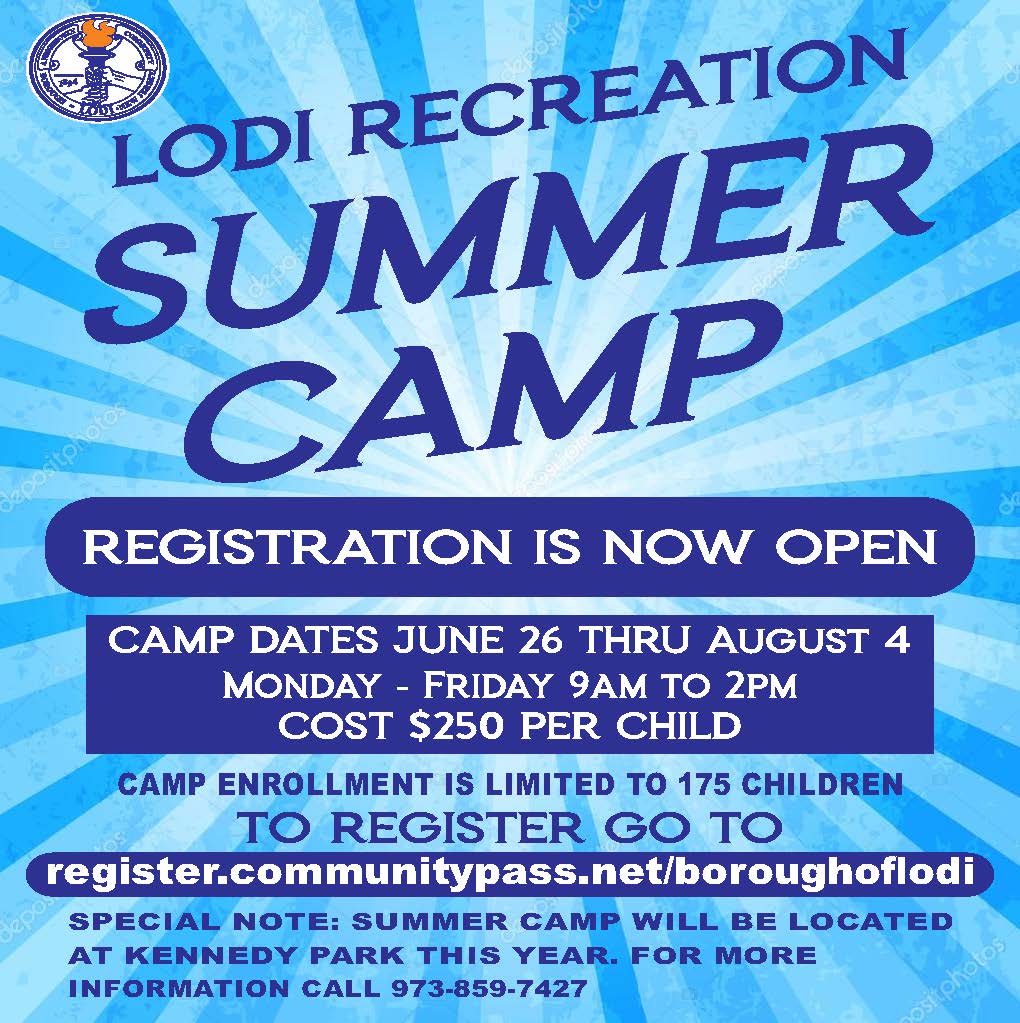 LODI JUNIOR RAMS CHEER WEBSITE
Note: Voto Tedesco Field is currently closed until further notice.
*All permits and registrations can be acquired through Community Pass (unless otherwise stated), as detailed at the top of this page
Park Name

Location

Amenities

Garibaldi Park

Garibaldi Ave at Pauline Terrace

Jungle Gym
Swingset
Open Area

Jet Age Park

72 Kimmig Ave

Jungle Gym
Swingset
Walking Path

Lodi Little League

72 Church St

(2) 40/60 baseball fields

Memorial Park

1 Memorial Dr


Track & Field
Soccer Field
Volleyball Court
Jungle Gyms
Lighted Tennis Courts
Lighted Basketball Courts
Amphitheater

Paws & Play Dog Park

72 Kimmig Ave

(2) Enclosures for your dog to safely play
(Registration required*)

Redstone Park

Redstone Lane

Jungle Gym
Open Area

Riverview Park

Riverview Ave

Jungle Gym
Swingset

Warchol Park

Borig Pl

Bocce Court
Gazebo

Voto Tedesco Park

Chestnut Street

40/60 ball field
50/70 ball field




Registration & Field Permits

Follow us:
Contact Information